---
Below is a video of President Ford's golf swing




Please be patient while video loads - Cable and DSL is immediate whereas 56K or less is 20 - 60 seconds - Once video starts you can stop or pause swing action by a right click on the video

---
---
Gerald R. Ford
Gerald Rudolph Ford, the 38th President of the United States, was born Leslie Lynch King, Jr., the son of Leslie Lynch King and Dorothy Gardner King, on July 14, 1913, in Omaha, Nebraska. After his parents' divorce and his mother's 1916 marriage to businessman Gerald R. Ford, he became known as Gerald R. Ford, Jr.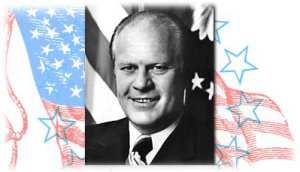 Jerry Ford graduated from Grand Rapids (Michigan) South High School in 1931 as an honor student and star performer in football and basketball. He continued both his education and athletics at The University of Michigan where he played center on the Wolverine football team and was selected most valuable player by his teammates during his senior year.

He received offers from two professional football teams, the Detroit Lions and the Green Bay Packers, but chose instead to take a position as boxing coach and assistant varsity football coach at Yale University during law school. He received his law degree from Yale in 1941, graduating in the top third of his class.

During World War II, Ford served in the Pacific as an operations officer aboard the aircraft carrier U.S.S. Monterey. In 1948 he married Elizabeth Bloomer Warren, a fashion coordinator for a Grand Rapids department store. They would have four children: Michael Gerald, John Gardner, Steven Meigs, and Susan Elizabeth.

In 1973 Vice President Spiro Agnew resigned after pleading "no contest" to a charge of income tax evasion and President Richard Nixon nominated Gerald Ford as the new Vice President. After an extensive investigation he took the oath of office on December 6, 1973.

Shortly thereafter, "Watergate" crime and cover-up charges mounted against Nixon. Facing a Senate impeachment trial, Nixon resigned on August 9, 1974. Ford took the oath of office that same day, stating "the long national nightmare is over. He faced many difficult decisions including replacing Nixon's staff with his own, restoring the credibility of the presidency, and dealing with a Congress increasingly assertive of its rights and powers.

Ford's problems were increased by his unpopular early decision to pardon his predecessor. Ford decided to grant a pardon to Richard Nixon prior to the filing of any formal criminal charges. Public reaction was mostly negative, and the decision may have cost him the election of 1976, but President Ford always maintained that it was the right thing to do for the good of the country.

On two separate trips to California in 1975, Ford was the target of assassination attempts. Both of the assailants were women.

On January 20, 1977, President and Mrs. Ford journeyed to their new home in California. They continue to vacation at their home outside Vail, Colorado, where Ford enjoys skiing and golf.
---
Beau Productions - Golf Swings
Multimedia Downloads